What is Matcha?
Matcha is made from green tea especially Organic tea leaves that are ground down into an incredibly fine consistency.
These leaves are specifically grown and processed to make matcha powder.
The tea leaves are special in a lot of ways, but a big part of it is how they're grown. They're grown in the shade for the last 3 to 4 weeks before they're harvested.
Sounds pretty wild, right?? But there's a method behind the madness. Growing these tea leaves in the shade increases the amount of caffeine they contain and intensifies their color.
You can buy matcha at most grocery stores in either the tea and coffee section, or the international section. I get mine from Teafy, but you can also order from their online shop on Amazon.
I'm not going to lie, matcha powder is not cheap. This tiny little can was $13, and there's not a ton of powder in there!!
The good news is a little goes a long way. I used about half of my matcha powder to make this cake.
That includes all the matcha that's in these cake layers, the matcha white chocolate ganache drip, and to powder used to dust the finished cake.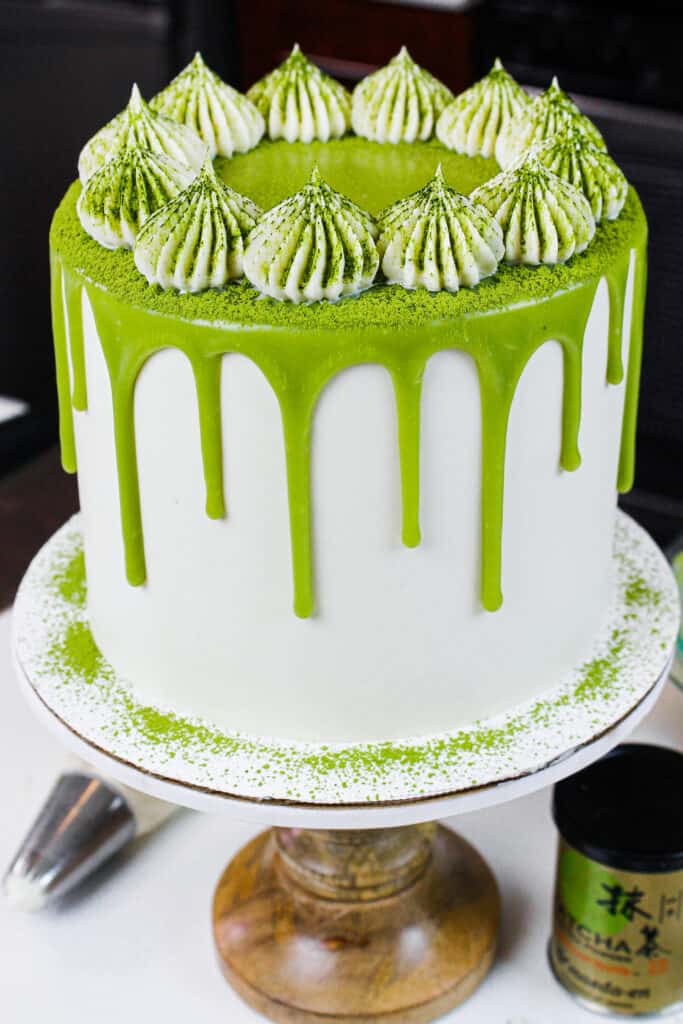 What Does Matcha Matcha Taste Like?
The first time I tried matcha, it was matcha soft serve! I liked it a lot more that I thought I would. Slowly I progressed to matcha pancakes, matcha croissants, and even matcha lattes.
Matcha has a uniquely earthy flavor. It's rich and smooth, but sometimes it can have a bitter aftertaste. However, good quality matcha should have almost a sweet finish.
A lot of it comes down to how the matcha is prepared and its quality.
Ceremonial grade matcha is used in tea ceremonies and is the highest quality. However, most matcha used for culinary purposes is a lower grade.
When matcha is being mixed with sweeteners in desserts or with milk in lattes, the sugars can balance out any hint of bitterness.
It leaves a wonderful flavor that pairs well with so many different things!
Choosing The Right Frosting for This Cake
Most people that enjoy matcha flavored desserts don't like super sweet flavors. With that in mind, I knew that my american buttercream wasn't the right frosting for this cake.
While I love it, I'm the first to admit it is quite sweet. I wanted a fluffy frosting that wasn't too sweet for this cake.
I'm not the biggest fan of swiss meringue frosting, but it's usually a great alternative for people who want a frosting that isn't too sweet.
I decided to try my friend Minette Rushing's faux swiss meringue buttercream recently, and thought it would be the perfect frosting for this cake.
I enjoy the texture and taste of it quite a bit more than normal swiss meringue. It also is so much easier to make!
I found I liked it best with a tiny bit less butter than the original recipe calls for, and that's exactly what I've included in my recipe card below.
The texture of this faux swiss meringue buttercream is incredible. It's fluffy and light, and wonderful to work with.
It also pipes like a dream  I used an Ateco 869 frosting tip to add these frosting dollops to the top of my cake.
I still love American buttercream, but it's so fun to play around with different frosting recipes.
There is one thing to note about this frosting recipe though! It doesn't have a super strong flavor on its own, so be sure to use a good quality vanilla extract or vanilla bean paste.
Adding the Matcha Drip To This Cake
Whenever I make a drip cake, there are two very important steps I take to ensure I get the look I'm after! I've learned the hard way on this, so please learn from my mistakes.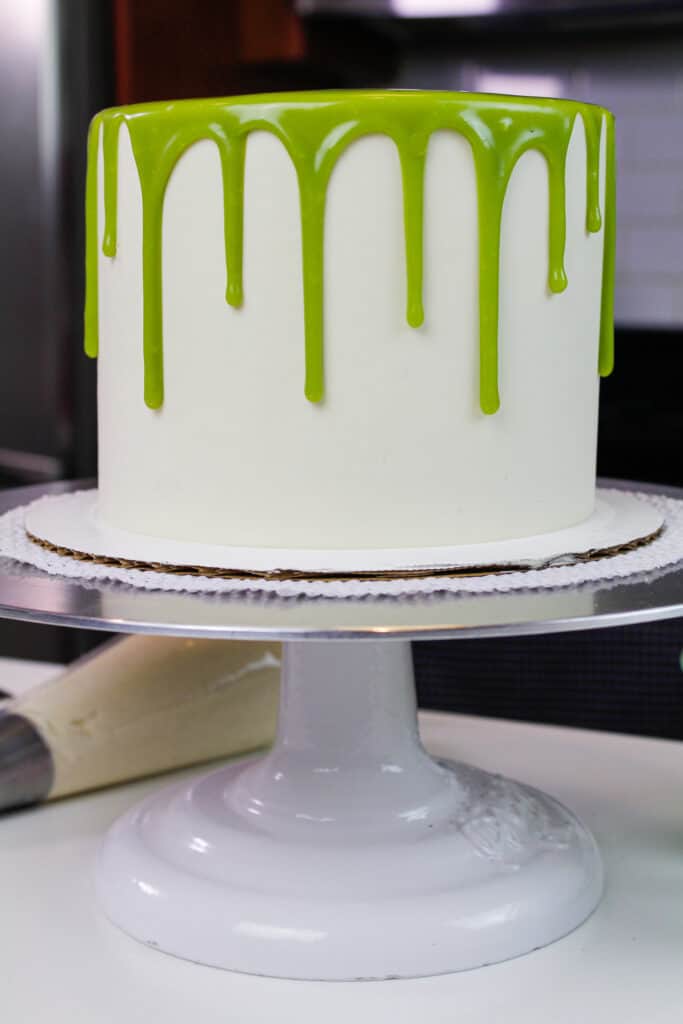 Tip #1: Chill Your Cake
My first tip is to only add drips to a chilled cake! I mean THOROUGHLY chilled. Your buttercream should be firm to the touch.
This can take up to 30 minutes in the fridge or about 10 minutes in the freezer.
Chilling your cake will help your drips stay in place once they're added, and help prevent them from running down too far.
Tip #2: Make A Test Drip
My second tip? Make a test drip. Take your ganache and make a single drip. Let if flow and sit for a couple minutes. See what it looks like, and how far it runs.
Are you happy with how it looks? This is your time to make changes to get it just right. Is it too thin? Did the drip run too far down the cake? Maybe you need to let your ganache cool more, or melt in a bit more chocolate.
Is your drip too thick or short? You might need to pop it in the microwave for a couple seconds (seriously, don't heat it for more than 5 seconds). Or maybe you want to add in a tiny bit more heavy cream.
This is point in the process where my eagerness can get the best of me, and I mess up sometimes. I think I've made the necessary adjustments, and dive right into adding all my drips.
But for all you know, you may have overcorrected! You may have actually heated or cooled your ganache too much.
You need to do ANOTHER test drip. I know it seems excessive, but think about it. You've already put all this time into making a cake from scratch!
It's worth taking the extra five minutes of test drips to make sure your ganache is the perfect temperature.
Tips for Making This Matcha Cake Recipe:
Chill your cake layers in the freezer for about 20 minutes before assembling the cake, to make it easier to stack and frost.
Mix your cake batter just until the ingredients are incorporated; this will ensure your cake layers are tender and fluffy
Be sure to properly measure your flour (spoon into the cup measure then level) or use a kitchen scale to measure your dry ingredients
Use a serrated knife to level your cake layers once they're fully cooled, to make it easier to assemble and frost your cake
I do NOT recommend using this recipe to make cupcakes! Instead, I highly recommend trying my matcha cupcake recipe (I like the texture better for cupcakes)
Making These Cake Layers in Advance and Storage Tips:
Make your cake layers in advance and freeze them: It breaks the process up and make it more approachable.
Make your frosting ahead of time too, or save any leftover frosting! It can be stored in an airtight container in the fridge for up to a month, or in the freezer for up to 3 months. Be sure to give it a good stir once it thaws to get the consistency nice and smooth again.
A frosted cake can last in the fridge for up to a week, or in the freezer for up to a month. The buttercream locks in all the moisture, keeping the cake fresh and delicious!
If you cut into the cake and have leftovers, use any remaining frosting to cover the cut section to keep it moist and store in the fridge for up to a week.
Let Me Know What You Think!
If you try my matcha cake recipe, I'd love to hear what think of it! Please leave a rating, and let me know your thoughts by sharing a comment 
Also please tag me @teafy_tea , and use the #Teafy on social media so that I can see your amazing creations!
Ingredients
2/3 cup unsalted butter, room temperature (150 grams) – 1 1/3 sticks
2 cups granulated sugar (400 grams)
2/3 cup pasteurized egg whites from a carton, room temp (or about 4 egg whites) (155 grams)
2 1/2 cups cake flour (300 grams)
1 2/3 tsp baking powder (7 grams)
1 Tbsp of matcha powder (6 grams)
1/2 tsp salt (3 grams)
1 cup full-fat sour cream, room temperature (250 grams)
1/8 cup vegetable oil (28 grams)
1 tsp vanilla extract (4 grams)
Faux Swiss Meringue Buttercream Frosting (adapted from Minette Rushing's Faux Swiss Meringue Frosting)
1/2 cup pasteurized egg whites (from a carton), room temperature (117 grams)
3 1/2 cups powdered sugar (440 grams)
1 1/2 cups unsalted butter, room temperature (339 grams)
1 Tbsp vanilla extract or vanilla bean paste (12 grams)
1/2 tsp salt (3 grams)
Matcha White Chocolate Drip
1 cup white chocolate chips (175 grams)
1/3 cup heavy cream (75 grams)
1/2 tsp matcha powder (2 grams)
Tools and Equipment
Whisk attachment
Stand mixer or electric hand mixer
Greaseproof Cake Board
Spinning Cake Stand
Large Offset Spatula
Bench Scraper
Small Sifter
Ateco 869 Frosting Tip
Instructions
Matcha Cake Layers:
Preheat oven to 325°F. Line and grease three 6-inch cake pans with parchment rounds.
Add the unsalted butter and granulated sugar into the bowl of a stand mixer. Beat on a high speed with a whisk attachment for a few minutes, scraping down the sides of the bowl as need with a rubber spatula. The mixture will become lighter in color as air is whipped into it.
Add the egg whites, and mix at a medium speed until they're incorporated.
Sift the dry ingredients (cake flour, baking powder, matcha powder, and salt) into a separate bowl.
Add half of the dry ingredients into the butter mixture, and mix on a low speed until just incorporated.
Add the sour cream, oil and vanilla extract. Mix at a low speed until combined, scraping the sides and bottom of the bowl as needed!
Mix in the remaining dry ingredients on a low speed.
Divide batter evenly between the prepared cake pans. I like to use a digital kitchen scale to weigh my pans, to make sure my layers will be the same height.
Bake for 35 minutes, or until a toothpick comes out with a few moist crumbs. Rotate pans halfway through to help them bake evenly.
Allow the pans to cool for 10 minutes, then run an offset spatula around perimeter of the pan to separate the cake from the pan.
Place cake layers into the freezer for 45 minutes, to accelerate the cooling process. Once the layers are fully cooled, carefully flip the pans and remove the layers from the pans.
Use a serrated knife to level the tops, and trim the sides to remove any caramelization.
Faux Swiss Meringue Buttercream Frosting:
While the cake layers bake and cool, make the fluffy buttercream frosting.
Place the room temperature pasteurized egg whites and powdered sugar in the bowl of a stand mixer (or a large bowl if you plan to make with a hand mixer).
Mix on a low speed to combine.
Once incorporated, mix on medium high with a whisk attachment for 5 minutes until stiff peaks have formed.
Swap the whisk attachment for a paddle attachment. This will help make your buttercream be smooth once it's fully made.
Mix in pieces of room temperature butter on a low speed in 2 additions.
Once the butter is incorporated, mix on medium speed for an additional 5 minutes.
Add in 1 Tbsp of vanilla extract and 1/2 tsp of salt. Mix until the buttercream is fluffy and smooth.
If you frosting breaks in the beginning when you add the butter, don't worry! Just keep mixing it, and it should come together in a few minutes.
Stir for an additional few minutes by hand with a rubber spatula to get it silky smooth. Set aside.
Matcha White Chocolate Drip:
While the cake chills with its second coat of frosting, make the matcha white chocolate ganache.
Heat heavy cream in a heat proof bowl in the microwave for 45 seconds, until it's just beginning to bubble.
Gently pour white chocolate chips into the heavy cream, making sure they are fully covered with cream. Allow mixture to sit for 1 minute.
Stir slowly until the cream and white chocolate are combined. Some bits of chocolate may not be fully melted yet. Heat the mixture again for 20 seconds, and stir.
Repeat as necessary until all the white chocolate bits are fully melted and incorporated.
Mix in the matcha powder. Allow to cool until desired viscosity is reached (barely warm to the touch).
If it seems too thin or thick, you can add a touch more chocolate chips or heavy cream! The type of cream and white chocolate that you use can affect the consistency, so feel free to adjust as needed.
How To Assemble This Matcha Cake:
Stack and frost cake layers on a greaseproof cake board, using a dab of frosting to help stick the first cake layer to the board.
Add an even layer of buttercream on top of the first cake layer. Stack and frost remaining cake layers.
Spread a thin coat of frosting around the the cake, to fully cover the cake layers.
Smooth using a bench scraper, then chill the cake in the fridge (30 minutes) or freezer (10 minutes) until the frosting is firm to the touch.
Add a second, thicker layer of buttercream frosting to the cake, and chill the cake again in the fridge (20 minutes) or freezer (5 minutes) until the frosting is firm to the touch.
Use a spoon to add the ganache drips around the cake with the white chocolate matcha ganache.
Place the remaining frosting into a small piping bag fit with an Ateco 869 frosting tip. Pipe dollops around the top of the cake, and dust with an extra bit of matcha powder.
Notes
Making This Cake in Advance and Storage Tips:
Make your cake layers in advance and freeze them: It breaks the process up and make it more approachable.
Make your frosting ahead of time too, or save any leftover frosting! It can be stored in an airtight container in the fridge for up to a month, or in the freezer for up to 3 months. Be sure to give it a good stir once it thaws to get the consistency nice and smooth again.
Make this ganache drip recipe ahead of time or save leftovers! Once it's made, wrap the bowl with plastic wrap or cover the top of the plastic bottle and store in the fridge for up to 3 weeks.
To use chilled ganache, heat the bottle or bowl in to the microwave for 10 second intervals until it reaches the right consistency
A frosted cake can last in the fridge for up to a week, or in the freezer for up to a month. The buttercream locks in all the moisture, keeping the cake fresh and delicious!
If you cut into the cake and have leftovers, use any remaining frosting to cover the cut section to keep it moist and store in the fridge for up to a week